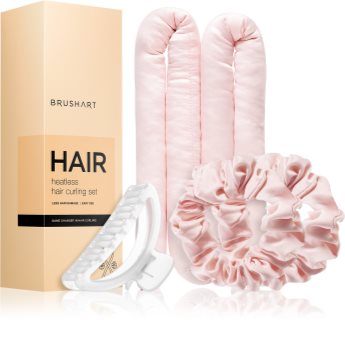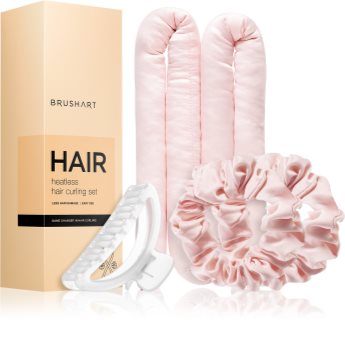 Special offers
Free delivery
---
In stock
|
Code:

BRU04061
BrushArt Heatless Hair Curling Set hair curling kit
Express Delivery
tomorrow
Wednesday 29/6/2022
Gorgeous, wavy hair that curls away from your face always looks amazing! Now you can create this unique style overnight without using any heat – thanks to the BrushArt Hair curling kit. Forget about trying to curl your hair with the belt of your dressing gown! This kit will give you great results without any pressure, and help you wake up with perfect waves.
Characteristics:
kit for waves that curl away from the face
inspired by the method of curling your hair with a dressing gown belt
creates waves in 3 to 6 hours, or overnight
very soft material for a comfortable sleep
with a clip and elastics to hold it in place during the night
for almost any length of hair
in a gorgeous pink design
How to use:
1. Wet your hair before curling by spraying it with water, or let it get half dry after washing.
2. Place the long flexible curler on the top of your head and secure it with a clip.
3. Then start winding individual sections of hair on the curler, gradually adding more strands. When you're done, secure the whole thing with an elastic and proceed in the same way on the other side.
4. When you wake up in the morning (or after 3 to 6 hours when your hair is thoroughly dry), remove the curler and style your hair as desired.
A youthful brand that's setting trends in makeup, hair care and styling, BrushArt offers hair brushes, makeup brushes and products to take care of them, as well as cosmetic bags in cool designs and an array of various beauty accessories. Basically, everything a true It Girl needs!
Some of the brand's most popular products are boar bristle brushes which will give your hair more shine than you thought was possible! And if you need to apply your foundation quickly, makeup sponges are unbeatable when it comes to creating a natural finish.
BrushArt of course offers fantastic makeup brushes as well. Their bristles are perfectly soft, create flawless makeup looks and make for an excellent gift, especially along with a cosmetic bag. The little ones will simply love kids cosmetic bags, hair pins and elastics. Those can gently tame even the finest hair while looking so adorable!
This is BrushArt — quality tools at affordable prices and in a trendy design that will make your beauty routine more fun.