Shu Uemura Art of Hair
The art of perfect styling
Shu Uemura Art of Hair is an extremely minimalist and refined line of styling products whose formulas were created by the most talented artistic hair stylists. The whole collection shares a luxurious, timeless fragrance which evokes purity. Impeccably styled hair, always light, healthy and soft to the touch.
The art of perfect styling.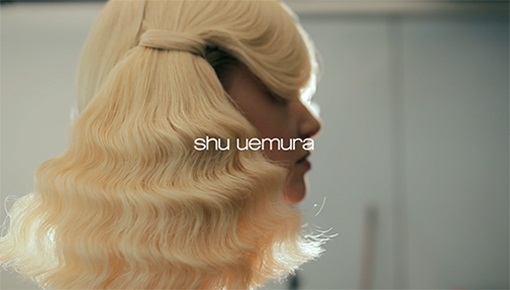 Turn your hair into a unique work of art every single day
Heat protection and smoothing
[netsu design]
Netsu ("heat" in Japanese) Design is a protective styling cream which prevents frizz for up to 96 hours and protects from heat up to 230 °C. Achieve a natural and restylable look which lasts up to several days.
Long-lasting natural hold
[tsuki shape]
Tsuki ("Moon" in Japanese) Shape is a styling spray which gives your hair a lasting shape and defines individual strands. It contains a thermo-activated shape memory for your hairstyle and the resulting look is always light and natural to the touch.
Strong yet natural hold
[kumo hold]
Kumo ("cloud" in Japanese) Hold is a light hairspray with strong hold. The micro-fine mist of this hairspray flawlessly defines your hairstyle while respecting the natural shape and colour of your hair. Perfect final look irresistible to the touch.
Quick blow-dry and shine
[tsuyu dry]
Tsuyu ("morning dew" in Japanese) Sleek is a blow-dry oil spray for normal to thick hair. Your hair will be dry up to 2 times faster, with every individual hair coated with an invisible film for a perfectly smooth and soft, glossy final look.
Strong shaping cream
[umou hold]
Umou ("feathers" in Japanese) Hold is a shaping cream suitable for short to medium-length hair. It creates a lasting shape without clumping or weighing your hair down, plus it protects from heat and humidity. For a sleek look with natural shine.
Strong mattifying clay
[nendo definer]
Nendo (Japanese for "clay") Definer is a mattifying styling clay which defines your tresses, gives your hair a moldable shape with a striking texture and subtle matte appearance. Suitable for wild messy hairstyles as well as sleek matte looks.
Shaping paste
[ishi sculpt]
Ishi (Japanese for "stone") Sculpt is a shaping styling paste. This product gives your hair a unique shape, texture and definition with a lasting semi-matte look you can change throughout the day.
Maximum volume from the roots
[awa volume]
Awa ("bubble" in Japanese) Volume gives your hair maximum volume without unwanted stickiness and residue. Your hair will be soft and smooth to the touch with a lasting medium hold and natural shine.
Perfectly set waves
[kaze wave]
Kaze ("wind" in Japanese) Wave defines waves and curls. It provides lasting hold, softness, lightness and natural shine, protects hair from heat and humidity and prevents waves from frizzing.
Soft and defined waves
[uzu cotton]
Cotton Uzu (Japanese for "vortex") is a light creamy pomade for wavy and curly hair which offers flexible hold and subtle shine. The resulting look is a definition of natural beauty and effortless style.
7 instant benefits
[shiki worker]
Shiki ("four seasons" in Japanese) Worker is a multi-purpose styling primer with 7 instant benefits: it hydrates, detangles, smooths, nourishes, adds shine, tames frizz and provides softness.